Comments from our Guest Book . . .
"We enjoyed our 12-day stay at this beautiful historic cottage. The location was perfect as our base and we enjoyed the surrounding towns. The cottage was as pictured. The sheets and linens were of outstanding quality. The cottage is well appointed and equipped to meet your every need. Emily was wonderful to work with and very accommodating and helpful. The cottage was very clean and well maintained. It was like our own private B&B. I will definitely look for an opportunity to return." Mary L., Houston, TX, 07/02/2019
"We stayed here to celebrate our 35th Wedding Anniversary. The property was exactly what we expected, and was very well kept. Emily and Alfred pay great attention to detail and there was not a thing that was lacking in this cottage. Emily went over the top with including breakfast items to get started. I would highly recommend this Cottage. Emily and Alfred has tons of information on things to do in the area. We particularly enjoyed the Washington Crossing Historic Park, and many other outdoor activities. Dinner at the Canal Street Grill was amazing and a nice walk down the Delaware Canal towpath rounded things out nicely. We were even able to order dinner one night through Uber Eats. We will definitely stay here again!!" Sherry B. Clarksburg, MD, 05/29/2019
"Cozy, Comfortable, and Charming Cottage! We so enjoyed our 2-night stay here. It was not only clean but felt clean the minute that we walked in. There is a lot of attention to detail that makes your stay comfortable and that most rentals don't consider - like quality hangers with clips, enough towel bars and hooks to hang your towels and also close by the shower, room darkening blinds in the bedroom, fragrance-free linens, and much more. It is decorated just like a house that I would enjoy living in. We so enjoyed having a fire in the fireplace both nights. The views from all of the windows are pleasant and it's private from the main house. There was more than enough space for the two of us. Emily and Alfred are great hosts and Emily is incredibly responsive, helpful, and nice. I can't recommend this rental more and hope to find a reason to return." Chris K., South Lyon, MI, 04/2019
"Emily and Alfred covered every situation that could arise when away from home...from "basics" in the kitchen, to a washer and dryer, to bandaids and aspirin in the bathroom. They did not overlook one detail. A true "home away from home". Immaculate. Private (it truly is a stand-alone cottage!). Cozy. Centrally located to all sorts of activities, from historical sites to New Hope/Lambertville, to flea markets, to Philadelphia and New York. Warm and welcoming every time you pull into the driveway. "Perfect" sums it up." Sherry S., Bluffton, SC, 06/24/2018
"Delightful holiday on the Delaware River! We stayed 9 nights in this delightful, cozy cottage on the Delaware. On our first night we were greeted by our host Emily. They live right next door, so if you are in need of anything, they are there in a flash. The cottage provided all the comforts of home....comfortable beds, a fully equipped kitchen, and a cozy living room - fireplace and all! Our thoughtful hosts even provided a Christmas tree. We thoroughly enjoyed our stay and will not hesitate to visit again. Thank you, Emily and Alfred, for being such wonderful hosts!" Tessa M., Vail, AZ, 12/27/2017
"Little did we imagine how perfect the Cottage would be. We spent two days here: A perfectly sunny day during which we explored the area and one of the rainiest days in a long time. I have to say, the rainy day was my favorite. We enjoyed an endless fire in the beautiful fireplace, watched a movie, cooked a nice dinner and just took full advantage of staying in. I couldn't recommend this place any more strongly. The hosts thought of everything and then some. Thanks!" Christopher M., Alexandria, VA, 10/30/2017
"We loved our escape. The best hosts you could possibly have, and their efforts are on display with a cottage that offered everything we needed. They allowed us to use all the wood we wanted for their fabulous fireplace. Super location: Close to all the favorite Bucks County spots, yet not in the middle of the tourist congestion you see up the road in the New Hope area. Yardley's a neat town. Wonderful, wonderful stay!" - Philip F., Englewood, FL, 10/22/2017
"We shall return. This place infuses energy and inner peace." - Bob S., Huntingdon Valley, PA, 10/14/2017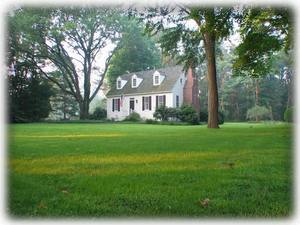 "The cottage was the perfect away-from-it-all spot, but close enough to enjoy all the beauty of Bucks County. We thoroughly enjoyed our stay, the hospitality of our hosts, and the comfort of the cottage. Definitely a redo!" - J W., Plainfield, NJ, 09/05/2017
"We rented the cottage to host friends for a celebration nearby. The cottage is just beautiful and Emily and Alfred are absolutely wonderful people and hosts. If you are looking for a relaxing beautiful Bucks County getaway, that is within close proximity to town and activities, this is the place you want to stay! Highly recommend." - Tracy R., Yardley, PA, 08/20/2017
"We highly recommend this Bucks County cottage. It's a beautiful & private place to unwind & relax & yet well situated if you'd like some entertainment. Our hosts provided all that we needed and more. We look forward to our return visit." - Sharon K., New York City, 08/07/2017
"We had a terrific stay here. Our host Emily was gracious and friendly and the cottage was clean, comfortable, and equipped with everything one would need. The cottage is elegant but with a sense of ease about it. We rode bikes on the the tow path many times, took advantage of the local restaurants, had a great day at nearby Longwood Gardens, and scouted out all the nearby antique malls. It was a wonderful stay in a exceptional cottage." - Roy M., Hamden, CT, 07/22/2017
"We had a wonderful stay at the cottage of Emily and Alfred. The decor is simply beautiful! Not a detail was missed in decorating this cottage. Emily and Alfred know how to make their guests feel welcome with the kitchen stocked with breakfast goodies like oatmeal and granola to the lovely Yardley soaps in the bathroom. I will definitely recommend their cottage to friends." - Maeve B., Raleigh, NC, 06/19/2017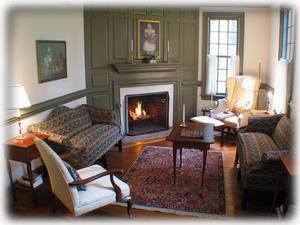 "Lovely furnished/maintained cottage on lovely grounds. Cottage was well-stocked and owners made us so welcome. A lovely retreat in historic Bucks County." - Carole W., Henderson, NV, 05/11/2017
"The cottage is the perfect place to go for a quick weekend getaway or an extended stay. We went for the weekend and truly wish we had more time to stay. Emily and Alfred went above and beyond in ensuring that we had everything we needed for our stay. They provided us with information about everything from nightlife and local events to dinner preferences and take-out menus. The fireplace in the cottage was equipped with more than enough firewood. This was a very memorable experience and I look forward to the day we go back. Thank you again for allowing us the pleasure." - Ramy A., Keyport, NJ, 10/02/2016
"The cottage was perfect for us in every way we could imagine. The location is very convenient to Yardley and the surrounding communities. It is beautifully furnished and decorated with appropriate period decor and conveniences for a stay. The backyard is very peaceful. We loved having our morning coffee outside and saw deer, squirrels, a baby red fox and heard many wonderful birds. We will definitely return for our next visit in New Jersey." - Stephanie M., La Crescenta, CA, 07/05/2016
"The cottage is charming and quaint and in a beautiful country setting. We found the hospitality of Emily and Alfred above and beyond perfect! It is the perfect getaway place for peaceful beauty that is surrounded by lots of history, shops, and restaurants. We absolutey loved it!" - Nancy C., Londonderry, NH, 06/27/2016
"My friend and I visited this cottage to getaway from NYC for the weekend. Among the many short weekend trips I've taken around the NYC area, this was one of my favorites. Emily and Alfred were very accommodating to our arrival and departure times, and gave us privacy throughout our trip while being accessible. They have clearly put a lot of time and thought into the setup and upkeep of the house. The house itself is very charming and tastefully appointed, with plenty of space for two, including a fireplace that was all set up for us to use. There's a cute little town within a few miles of the house, with a brewery, and a deli that we liked so much we went back several times. My favorite part of the weekend was biking along the canal, starting out in Lambertville, PA. All in all, it was a wonderful weekend and it was very relaxing. I am definitely looking forward to making this trip again!" - Julie A., 04/29/2016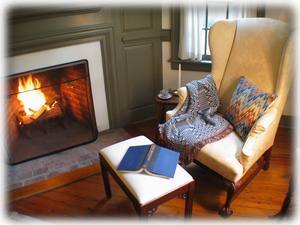 "Had a great time at The Cottage with my wife and toddler. Everything you need and more was provided by owners to make trip stress free and very enjoyable. Beautiful property and house in close proximity to many restaurants and historic sites. Would highly recommend to any family looking for a getaway in the area!" - Adam G., 11/14/2015
"Our week at the cottage was wonderful. Everything we might have wanted was provided - and then some! My husband and I would definitely recommend staying in this delightful home." - Kathy and Charles, Forest, VA, 07/09/2015
"We stayed at Emily and Alfred's cottage for a week and it was perfect. When we arrived Emily took time to welcome us and show us around. There was plenty of room for our family of three and they provided us with more than enough towels and cookware. The cottage felt very safe and quiet. We loved our stay!!!" - Margarita V., Overton, TX 06/21/2015
"Everything was perfect during our stay. The cottage was clean, thoughtfully and well equipped, and had lots of extras (snacks, drinks, soaps, fresh flowers). We were in close proximity to many attractions, historic sites, and leisure activities yet in our own slice of peaceful, quiet country. We would definitely recommend this rental without reservation." - Grace D., Plain City, OH, 05/27/2015
"My sister and I spent four nights at the cottage whilst visiting America for a family bereavement. I cannot recommend it highly enough. The cottage is comfortable, warm and cosy and has been furnished and equipped to a very high standard. Emily was very welcoming and her attention to detail is amazing. We were sorry to leave and would have stayed longer had it been a better time of year." - Sally S., England, 01/28/2015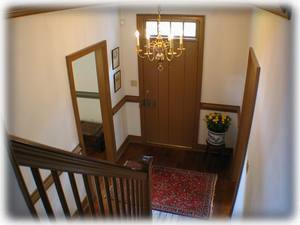 "We spent a week at this delightful cozy cottage and even after a week's stay we really didn't want to leave. It was a heavenly get away for R&R but also close enough to great entertainment and wonderful restaurants. We enjoyed each morning having our coffee with the deer and beautiful surroundings. Emily and Alfred were delightful hosts and made our stay so enjoyable. Everything was from the welcome to the furnishing were of the utmost quality. We rated our stay as first class. Hope to return next year. Highly recommended to all." - Melanie C., 10/08/2014
"We spent a 4-day Easter vacation at Bucks County Cottage with our two small children and had a fantastic time! Emily was friendly, helpful and very knowledgeable about events and things to do. We found the cottage to be the perfect get-away from the city. Truly a home away from home. Looking out on the Delaware we discussed George Washington's crossing with our kids, had an Easter-egg hunt in the sprawling yard and enjoyed evenings by the fire in the living room. All around, the cottage exceeded our expectations and we will definitely come again!" - Thomas T., Brooklyn, NY, 04/21/2014
"No detail left undone: This cottage was the perfect dream getaway from all the hustle of everyday life. Emily and Alfred where wonderfully knowledgeable about the area and extremely wonderful hosts. Thank you once again for such a wonderful experience. What more is there to say but a genuine THANK YOU!" - Ariel, Brooklyn, NY, 02/20/2014
"My husband and I try to take a vacation every year during the first week of October, which coincides with our anniversary. This year we chose Bucks County because of the 60+ miles of scenic trails along the historic canals and the proximity to some great antiquing. The cottage was lovely and very comfortable, and Emily and Alfred were wonderful hosts. It was a great place to celebrate our 24th wedding anniversary, and we would definitely return." - Libby, Indianapolis, 11/21/2013
"We spent a terrific week at this property. The owners, who live next door, are wonderful hosts, and we really enjoyed all the care and attention that they have poured into their guest cottage." - Alexander G., Yardley, PA, 08/31/2013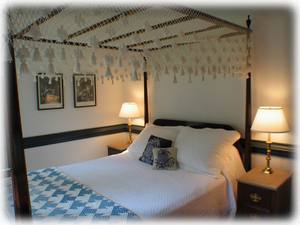 "We had such a wonderful time. The cottage was nice and cozy and we got plenty of rest. We got to see deer literally by looking out the kitchen window. A good place to get away from the big city." - M, New York, NY, 08/19/2013
"The Yardley Cottage was so charming and cozy and so centrally located to all local attractions We enjoyed a wondelful vacation in Bucks County and a great measure of our enjoyment was Emily's Yardley Cottage" - Chaim, Brooklyn, 08/11/2013
"My wife and I needed a last minute getaway with our kids (toddler and 11 yr old) and found the cottage through a Bucks County website. Owner Emily kindly facilitated a 2 night stay even though the minimum is usually 3 nights. Emily took care of showing us around as soon as we arrived and provided some essential groceries which was a nice touch. The cottage is as described, quaint, romantic with very nice furnishings, modern but with an old world feel. It is a one bedroom with a side bedroom perfect for a kid. Bathroom and bedroom are modern and excellently maintained. There is a nice garden for kids to play in and a grill available for outdoor cooking. The cottage is 25 mins drive from New Hope/Lambertville and local attractions and consequently is competitively priced by comparison with B&B's and hotels in the New Hope area. We thoroughly enjoyed our stay and will definitely be back for a longer stay in the future." - Simon W., 07/24/2013
"We had such a wonderful time at your cottage and visiting the area! We only wish it hadn't gone so quickly. You were so helpful with providing the starter food items, picking up the few breakfast items we needed for our first morning (that we were able to reimburse you for), recommending the Italian place for delivery our first night (since we didn't have our rental car yet), suggesting the local car rental property (they were also great to work with), providing us with a blender, showing us how to get to the tow path, and so much more. All of your sight-seeing information in the cottage was so helpful, and the kitchen had everything we needed. The accommodations were just like being at home. It was nice you provided items such as robes and toiletries (including the mending kit) just like a hotel. In fact, my husband had a button coming off his shorts that I was able to fix. The Netflix was a nice touch, and the wireless internet worked just like at home. Your location is perfect for visiting all of my family as well as the many sites. I loved how the cottage was decorated with a colonial feel (just like the historical area you live), and the yard is maintained so nicely. The tow path was perfect for my husband and daughter to take their morning runs. I enjoyed learning the history of your home and the cottage. That's pretty neat! You couldn't have been more accommodating, and we thank you for making our vacation such a memorable one." - Corvette Girl, Flagstaff, AZ, 07/08/2013
"The cottage was exactly what we needed, and then some. The train stations taking us to Philadelphia and New York were nearby. The property was perfect, complete with a swing for the kids. We fell in love with the home and absolutely adored Emily and her attention to detail when it came to making sure we were well taken care of." - Anonymous, 06/25/2013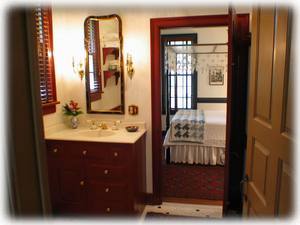 "We had such a wonderful time and absolutely fell in love with this place. It is such a beautiful setting in an ideal location. Our 10 day stay went by way too quickly and we could have easily settled in for much longer. Owners Emily and Alfred have done an amazing job with attention to detail in every aspect. They truly make you feel extremely comfortable. The pictures really don't do justice to this charming cottage. We awoke early one morning to see deer grazing in the front yard and a red fox foraging in the back yard. On our walks and bike rides along the canal we saw horses, geese, swans, herons, and all kinds of songbirds. It was such a great way to start our day. The home was extremely clean, very well maintained, and loaded with many nice little details and amenities. We just loved that milk frother for our morning coffee! There is a wonderful book and game collection with lots of information about the surrounding area. There are so many things to do, places to see, and an awesome selection of great restaurants. We had so many wonderful meals and found it difficult to pick just one favorite. We quickly felt right at home here and would highly recommend it to anybody visiting the area. You will not be disappointed. Thanks Emily for all your helpful tips. We will be back to visit again!" - Steve G. , Orange County California, 06/03/2013
"Our stay At the cottage was wonderful! The fireplace and period furnishings were lovely! Our hosts Emily and Alfred made sure to provide an environment that was well thought out and immaculate. Thanks for the restaurant suggestions, and hospitality!" - Enid from the Slope, New York, 02/14/2013
"My wife and I returned last weekend from a 3 day break at the cottage. It is such a beautiful and tranquil environment; one in which all can truly relax and take it easy. The log fire is a lovely feature and we highly recommend that everyone uses it. Alfred and Emily are so pleasant and easy going - it made the whole experience even better. I would recommend the cottage to anyone looking to get away from everything or to be used as a base to explore Bucks county. It's excellent value for money." - Peter K., 01/24/2013
"This cottage is amazing! It has everything that you need and a little more. 5 stars at a 3 star price. Comfortable bed with the softest sheets, bath has big fluffy towels. It has all the charm and feel of an old colonial with modern features. The living room is comfortable and the fireplace adds to the warmth of the cottage. We loved just sitting by the fire and watching the deer from the windows. The owners; Emily and Alfred have thought of everything and their hospitality is beyond words. We will most definitely be back for a longer stay." - Dex and Deb, St. George, Utah, 12/12/2012
"First of all, the house was spotless so for me, everything else was a wonderful bonus. It was small but beautiful with lovely furnishings, cozy bedding and tons of firewood. Our morning walks were shared with fowl and deer, including a buck. We enjoyed the local sights as well as taking the train to Philadelphia. To sum it up, the only thing more charming than the house, was the owner :)" - Gail, Pittsburgh, 11/27/2012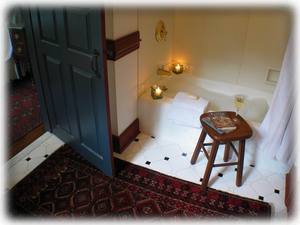 "This past April my mother, sister and I spent a few wonderful days in this fabulous little cottage. The downside: It wasn't nearly enough time to explore the area. The upside: Perfection and Charm. The museums, shopping, restaurants, beautiful views and friendly people made our trip even better. We wore ourselves out each day and then spent each evening snuggled in front of the fire with a glass of wine. Emily & Alfred couldn't be better hosts. They live right next door, but you will never know they are there unless you need them. And if you are at a loss for something to do - just ask - they are a wealth of knowledge. The moment we entered the front door we were instantly at home. This little cottage has all the comforts you would expect from a fine hotel – only much more charming. Thank you for making our mother/sister trip unforgettable. We will most certainly be back!" - Jacquelyn E., Dallas, TX, 10/24/2012
"What an amazing place to stay!! We just loved this cottage! It is located right on the Delaware River in Yardley – just beautiful area to visit for vacation. Emily, the owner, was incredibly helpful since this was our first visit to the area. She gave us great recommendation for local attractions and restaurants. We are looking forward to our next visit!" - John H., San Carlos, CA, 10/09/2012
"We had an exceptional stay in this cottage! We do a lot of VRBO, but seldom are you treated so special. Our 30 mile bike ride along the Delaware was the best: 95% shade, no hills, beautiful scenery, and lots of options for stopping to rest, eat, shop, or whatever." - Karen R., Colorado, 08/08/2012
"Emily was absolutely wonderful and accommodating. In addition to the wealth of information provided in the guides waiting for you, Emily is very knowledgeable and willing to make recommendations based on what you are looking for. The cottage was immaculate and packed with everything we needed to start our three day stay, including a set table, milk, juice and tasty snacks in the kitchen. There are also pans and nifty stove to make your own meals. This location is perfect for those who live in the New Jersey and New York area, because it's not too far out of the way (took me about 50 minutes from north NJ) but far enough from the madness of city life. Sweet silence at night and lots of candles make you feel like it's just you and your partner in your own private wonderland. We mostly spent our time in the cottage and in the New Hope and Lambertville areas. I recommend New Hope for walks, shopping and spots like Post Mortem Gallery and Nightbird Vintage shopping were exceptionally cool. Restaurants to try: Cafe Antonio (Italian), Havana (Caribbean), and Phillips Inn (romantic, American cuisine). If you are looking for an inexpensive, romantic and quiet vacation with a significant other, I highly recommend a stay at this cottage." - Anonymous, new york, 07/14/2012
"My husband and I spent our anniversary week exploring Bucks County, and had a fabulous time! This cottage was centrally located to explore all of Bucks County, which is quite large! We loved the little town of Yardley, where the cottage is located, but FYI you cannot physically access the river from the cottage. I think highlights would include fabulous restaurants, like Concerto in Morrisville, all the self serve frozen yogurt you would want (every town pretty much has one, but our favorites were in New Hope and Doylestown), antiquing in Lambertville, bike riding on the tow path right near the cottage, and tubing down the Delaware (our tubing adventure took 4 hours to get down the river!...I would recommend scouting out a shorter route...we used Delaware River Tubing but there are other companies that might have a shorter route.) We did most, but not all of the things on our list. What a wonderful, enjoyable week!" - Elizabeth O., Millbrook, New York, 07/03/2012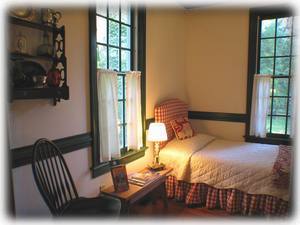 "Our second time at the cottage and even better than the first! Saw foxes, fireflies, bunnies, deer, groundhogs.. all in just 3 days. Our toddler loves the huge beautiful wooded garden, as do we! Recommend Canal Street Grille and Continental Tavern in Yardley, Washington Crossing Inn, and Bitter Bob's in New Hope.. Just a great place to get to from NYC in less than two hours, but feel like you are a million miles away! Thanks Emily and Alfred, we will be back soon!" - Ian W., Manhattan, NY, 06/17/2012
"My husband and I stayed in the cottage while visiting our son, a student at UPenn in Philadelphia. We thoroughly enjoyed our visit - especially the fireplace and the beautiful views of the Delaware River from the front windows. Emily and Alfred made us feel like we were at home. I highly recommend this charming cottage and we are looking forward to going back for a longer stay." - Anonymous, Eastlake, Ohio, 11/20/2011
"This place is beautiful. The cottage was immaculate, spotlessly clean and stocked with everything you need for a weekend getaway. The garden was fabulous, our toddler loved racing around the trees and jumping in piles of leaves. Alfred and Emily were exceptional hosts. They provided great information about local family friendly activities and even presented our 18 month old with a gift bag of animal crackers with his name on it! We have recommended this property highly to our family and friends." - Kate M., 10/17/2011
"I've stayed in dozens of vacation rentals and have never experienced this level of hospitality. Juice and milk in the fridge, snacks, even chocolate, fresh flowers and a welcome note. Any time we thought we needed something, we would look in the spot we thought it would be and there we'd find it. You will want for nothing here. The 600 thread count sheets were wonderful. The hosts have very well organized information about where to eat and what to do. We loved staying in this lovely cottage and will absolutely be back. If you enjoy Revolutionary War history do not miss the Hessian Barracks in Trenton. They were amazing as was our tour guide. The oldest prison in the country is nearby in Mount Holly, NJ which was interesting also. The Old Tenent Church looked really neat too, but we ran out of time. Oh I forgot to mention that there is no shortage of great dining in the area. Sprig and Vine in New hope was one of our favorites." - Staley, Peoria, IL, 09/27/2011
"This house and location were better than advertised! We used it as our home away from home on a visit to bucks county with our 2 young kids. Sesame place was only a 10 minute drive, and nearby peddler's village was great! The home was perfect for our family, the kids loved running and playing hide and seek in the beautiful back yard, not to mention the great tree swing. The accommodations were great with a well supplied kitchen, and very comfortable bedrooms and living room. We would recommend this to anyone on a small family getaway or a couple looking for a romantic weekend. Thanks to Emily too, as she was very helpful with answering questions leading up to our visit." - jeff w., Warwick, RI, 09/06/2011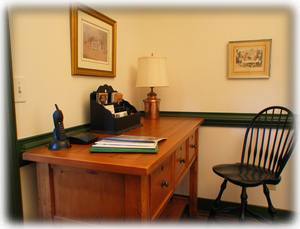 "We were made welcome on our arrival late in the day after a long international flight. The kitchen was stocked with basics to see us through until the following day. The cottage well equiped and beautifully furnished. An extensive video library and lots of information on the local area meant plenty to do on a wet evening. The wild life was great, deer, fox, groundhog, box turtle, and at night the fireflies. All except the turtle could be seen from the cottage windows! It was a wonderful place to be for six weeks which passed in a flash. Do explore further up the river - beautiful countryside and quiet roads up to Washington's Crossing, New Hope and beyond. Our thanks to Emily & Alfred" - Grandpa, Bristol,UK, 07/01/2011
"Spending time in Emily and Alfred's cottage felt like a step back in time but with all the conveniences of today. We enjoyed the beauty of the Delaware River along with the charm of historic Yardley. Emily thought of everything - recommendations for restaurants (plus coupon), directions to some excellent specialty grocery stores, information on the best activities the area has to offer. The cottage is conveniently located to places like New Hope, Peddler's Village, and Newtown. Thanks to the fresh flowers on the kitchen table, the essentials for our first morning's breakfast and the luxurious sheets, you will feel pampered and rested at the end of your visit. We will certainly be back." - Donna B., Windermere, FL, 04/06/2011
"This beautiful cottage allowed my husband and myself the peace, quiet and tranquility we were craving as full time New Yorkers. We loved having our own little house to relax in; sitting by the fire, eating breakfasts in the bright kitchen, lounging and reading, and walking the lovely grounds. The drive to nearby towns is easy and scenic. There are great restaurants nearby as well as a lovely yoga studio (prancing peacock). We will definitely return. Samantha and Jason :)" - Samantha F., Bklyn, NY, 02/21/2011
"Emily and Alfred, Your cottage was the perfect setting for discovering all that Bucks County has to offer. Every little detail from the welcome goodies, to the lovely flowers made it seem like our home away from home. The bonus was your friendliness and all of your great suggestions. We came for a friends wedding but ended up falling in love with Yardley and its friendly folks. Thank you again so very much. I would recommend this location to anyone who wants to enjoy, relax, and discover this unique and historical part of the country!" - Anonymous, Elyria Ohio , 10/05/2010
"We stayed 10 days. What sets this rental apart is the little things. We like to rent with a kitchen, but normally you find yourself running around buying pepper, and two pounds of sugar, to cover your short stay. This place had pretty much everything we needed. And it's comfortable, and a great location. Aside from offering easy access to Philly and New York, there's a nice walking trail along the towpath, just behind the house, and Bucks County has a lot to offer. Having the hosts right next door was also a blessing, because they were very friendly, and helped with suggestions for day-trips, and restaurants. We will definitely go back." - M&M, Miami Shores, FL, 08/30/2010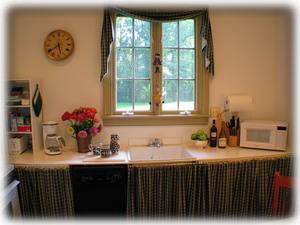 "Picture this: Colonial surroundings, blazing fireplace, fresh flowers, attention to detail in all respects, 600 count crisp sheets, "starter kit" with fresh OJ, coffee and other treats, tour suggestions galore, and even bars of Yardley soap in your own Yardley rental home in Bucks County, PA. If that is what you are looking for-look no more. Would rent this cottage again and again!" - Char B., Arizona, 04/08/2009
"We spent New Year's Eve at the cottage and had an absolutely wonderful time. From the curious wildlife to peaceful river side evenings to the cozy fireplace, this cottage has everything you want and expect. It is apparent that the owners love Bucks county and are eager to share it by providing the perfect accommodations for doing just that. The cottage has all the amenities and information you want and would expect if you were to do this yourself. This comes as no surprise since the owners literally wrote the book on it. They make it so easy to immerse yourself in life as a Bucks County resident that you feel as if you've been living there for years in only a few short days. This made it very difficult to leave! But it will make the decision to do it all over again an easy one to make. It's the perfect location in a charming town which is a short hop from Philly and a great launching pad to the rest of Bucks County and all it has to offer." - Ruben P., New York, NY, USA, 01/06/2009
"I just completed a five night stay there that was absolutely perfect. I went for work, needing a quiet place and no worries and I got that plus a lovely home and wonderful care from Emily. I have stayed in many rentals over the years and it simply doesn't get better than this in terms of thoughtfulness and preparation and little touches. The master bedroom and bath are elegant and the bathroom is quite large. The bedroom is not large but it's a good size and beautiful. The fireplace in the sitting room is a terrific extra. The property is clean, well decorated and atmospheric. The kitchen is small but entirely adequate for anything, really and was partially stocked for my first day. All in all this is a wonderful, charming property. The thoughtful care provided by the owners/hosts makes this a truly special place." - Scribe, Philadelphia, PA, 12/20/2008
"Recommended. An ideal location for a holiday, which allowed us to visit Philadelphia (park your car at the local station & take the train into the city.......it couldn't be easier) & explore the surrounding countryside. The cottage is very comfortable, well equipped & is in a peaceful location. We particularly enjoyed the resident family of deer - fascinating to watch from the kitchen window......however, they didn't appear so keen on us!" - Steve & Jacky, Doncaster, UK, 10/12/2008
"Truly a wonderful home for a relaxing experience. All you need are your clothes as the fully furnished home is complete with linens and a very functional kitchen with dishes and utensils. Whether you want to enjoy the peaceful surroundings or use as a home-base to take in all that the area offers, this is a remarkable place." - Rockmom, Grove City, 07/15/2008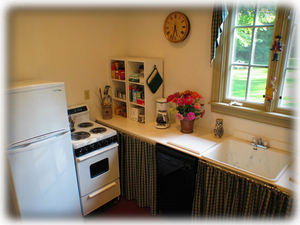 "I spent three weeks at this wonderful home away from home. It was totally relaxing and a pleasant experience. This was my first time but certainly not my last. I enjoy the fact that there was so much to do in the area, but it was as easy just to stay home and relax. I enjoyed being away from the hustle and bustle of life. The time flew by!" - Rockmom, Grove City, 07/14/2008
"Your cottage was just perfect for our family of four! You made us feel so welcome and right at home beginning with our first contact over the phone. From your willingness to visit and be available when needed to the cookies and dolls you put out for the kids, you added such a personal touch. It was just fun! Your knowledge and resources of the area were fantastic. The location and the accommodations of the cottage were excellent. Your requirements for reservations, payment, check-out, etc. were simple, clear, and reasonable. We had a wonderful vacation and left feeling like we had made a new friend." - HAC150744, Petersburg, Illinois, 07/08/2008
"We loved staying at this adorable cottage. We have rented many places, in the US and overseas, and this experience was the most well organized and cared for by our host. We appreciate your thought and helpfulness and look forward to returning. Bucks county is beautiful, with lots of interesting things to do and nice people." - American couple living in Berlin, Berlin, Germany, 06/30/2008
"We just recently stayed at another VRBO property in Laguna Beach & it reminded us of the fabulous time we spent at this property almost two years ago! The cottage is beautifully decorated, quiet & quaint, and well-located and well-equipped. The Glossbrenners were fabulous hosts & richly deserved our praise, and we feel badly we didn't know about this option on the VRBO website until now to give it to them! Thanks for the memories! " - Marybeth & Bill Orinda, CA, 06/05/2007
"We are overwhelmed by your amazing hospitality. Not one detail is missing. The Cottage is wonderful and beautifully decorated. Thank you for giving us a few days of peace and rest to hide away. We wish we could stay longer, but we miss our baby! We will be back with her and will highly recommend you to our friends and family." - GlenHeadTravelers, Glen Head, NY, 02/11/2007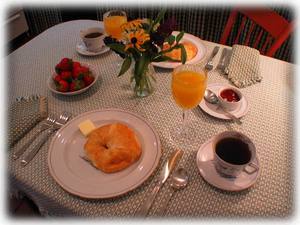 "I needed a break from being a mom for just a little while. The week I spent at the cottage was just what the doctor ordered. Alfred and Emily made me feel so at ease, and their attention to detail was perfect. Sleeping late, quiet walks along the canal, and uninterrupted shopping days in New Hope made my week there a dream. Oh, and the new Starbucks in town was an added bonus. I will definitely be back for another mommy getaway." - NDKing, N. Wales, PA, 01/16/2007
"My husband and I found the cottage when we were fleeing Live 8 in Phila and ended up in a marvelous place. The cottage was charming, the bicycle paths were nearby and our hosts were delightful! We hope to return again." - Anonymous, 07/08/2005
"Three of us made the cottage the headquarters for our 45th high school reunion, and we loved every minute. The cottage is delightful in every way, and Emily is the perfect innkeeper, friendly, efficient and thoughtful. We'll try it again for our 50th!" - New York, NY, 05/14/2004
We had such a wonderful time and absolutely fell in love with this place. It is such a beautiful setting in an ideal location. Our 10 day stay went by way too quickly and we could have easily settled in for much longer. Owners Emily and Alfred have done an amazing job with attention to detail in every aspect. They truly make you feel extremely comfortable. The pictures really don't do justice to this charming cottage. We awoke early one morning to see deer grazing in the front yard and a red fox foraging in the back yard. On our walks and bike rides along the canal we saw horses, geese, swans, herons, and all kinds of songbirds. It was such a great way to start our day. The home was extremely clean, very well maintained, and loaded with many nice little details and amenities. We just loved that milk frother for our morning coffee! There is a wonderful book and game collection with lots of information about the surrounding area. There are so many things to do, places to see, and an awesome selection of great restaurants. We had so many wonderful meals and found it difficult to pick just one favorite. We quickly felt right at home here and would highly recommend it to anybody visiting the area. You will not be disappointed. Thanks Emily for all your helpful tips. We will be back to visit again!
- Steve G., Orange County, CA 06/02/2013